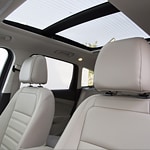 At Faith's Ford Westminster in Westminster, VT, we love to show off all of the amenities that come with the Ford Escape! If you commute to work, the Escape has amenities such as Ford+Alexa wireless charging and a Wi-Fi hotspot that really can help you save time and energy.
Ford+Alexa gives you the ability to check several different calendars, your Amazon account, and home devices synced with Alexa. There is also the ability to use voice navigation with the Ford+Alexa feature. Doing all of these things while you drive gives you even more time to relax at the end of the day.
When you are busy or running late, having features such as a Wi-Fi hotspot is excellent if you have passengers in the Escape that need to finish projects or even schoolwork. There is also a wireless charger in the Ford Escape so that you can always be ready to go as soon as possible.