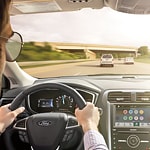 The Ford Fusion has become one of the top vehicles found around Westminster, VT in recent years due to the impressive performance that comes with owning one of these vehicles. Ford has taken into account many aspects when designing the performance of the Fusion that has put it ahead of its competitors in a number of areas.
With the Fusion, you have many different engine options to choose from that will deliver both power and efficiency. With two different EcoBoost engines available to pick, you won't have to sacrifice power when you are looking to boost fuel efficiency.
Ford has also made the Fusion with a hybrid and plug-in hybrid trim options as well. These options have the ability to produce enough power to get you where you want to go while optimizing your vehicle's fuel efficiency, with the hybrid model getting up to 42 combined mpg.