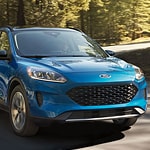 Why does Faith's Ford Westminster recommend the Ford Escape so highly to Westminster, VT motorists? One of the primary reasons that this SUV is recommended so often is how impressive its capability features are. Performance benefits can be enjoyed if you get in a Ford Escape's driver's seat and take advantage of features like Selectable Drive Modes and the versatile Disconnect ability built into the available All-Wheel Drive.
Sport Mode is one of the different modes that can Escape drivers can enjoy. It can boost the throttle response and allow for more rapid shifting. Slippery Mode is another, and it is ideal for driving on surfaces that are coated in grass, ice, water, or gravel.
If the rear driveline of your available AWD is not crucial during your commute, then Disconnect will disable it, which will reduce not only fuel usage but also energy requirements and drag.